Field Service Management Software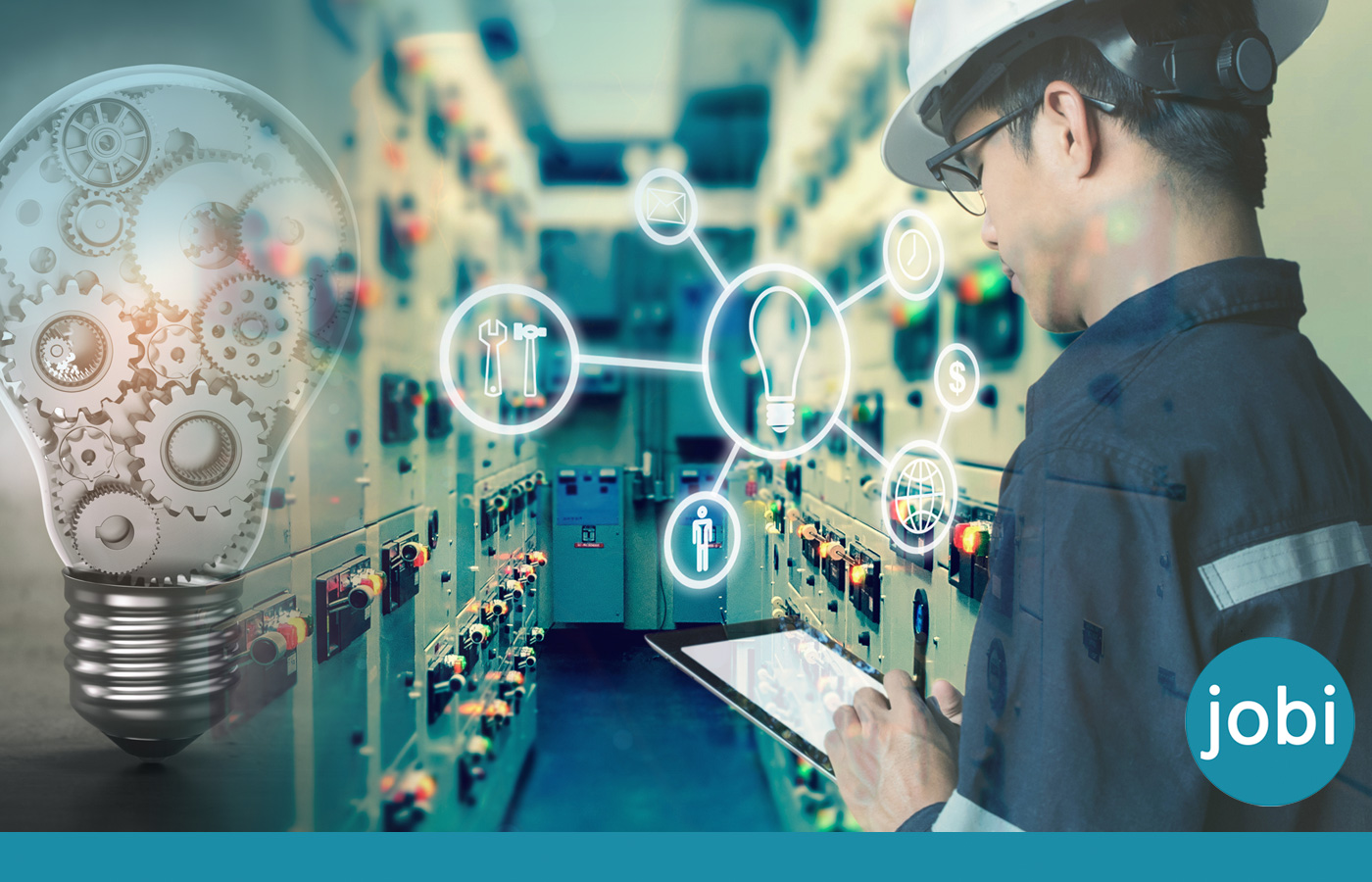 When you're out in the field, the one thing you don't have is time. Businesses that offer plumbing, HVAC or electrical maintenance services need to be able to react in real time. Otherwise, your customer base may get angry and bounce to a competitor. All it takes is a couple of bad reviews for consumers to vote with their feet.
Call: (877) 765-6304
The good news is Jobi understands how difficult it is to provide HVAC, plumber and electrician field services. Any type of operation management is tough when you're out in the field. Thankfully, our service management app takes out the pain and enables technicians to be synchronized with inbound calls, scheduling, flat rate pricing options, paperless service agreements and real time paperless invoicing linked through Quickbooks. There's a reason that contractors using the app reported a 378% increase in revenue from the same amount of calls.
If you want to find out how this is possible, take a look at the following.
Field Service Management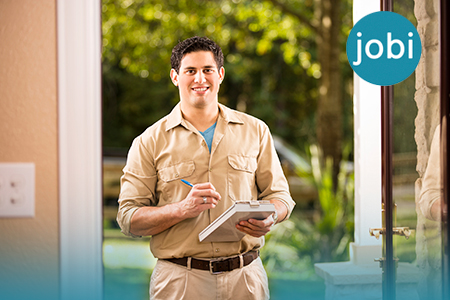 Jobi was established to help business owners eliminate mistakes and make use of a scheduling system that is easy, quick, and accessible. By linking companies with clients, it takes out the hard part of finding a steady stream of work. However, Jobi doesn't stop there as there is the also the overselling aspect of field services. Lots of plumbers, electricians, and HVAC installers hesitate to point out additional problems even when they spot them. With HVAC, plumber and electrician field service software, there is no need to seem salesy. The app allows you to offer high-quality services without being pushy and offending your customers.
Service Visits
You want to make the process of organizing a visit as simple as possible, which is where the service dispatch software comes into play. But, it's also essential to avoid field management mistakes and blunders. To help with this aspect of the job, the Jobi app allows your employees to take a call or an email, log it, and arrange a visit. Whether they are plumbers, electricians or HVAC experts, there's an electrician contractor app, plumber contractor app, and HVAC contractor app.
Not only does this make life easier for the customer, but the business owner too. Thanks to the application, you can sync it to ensure you know when the contractor gets paid.
Routing Calls
With the use of GPS, service scheduling software for startups and growth has been as accessible. Due to a built-in navigation and tracking system in the app, you can tell where your technicians are and if they're available. Using this real-time information means everyone will be happy as employees will arrive on time. Of course, it also means the company won't waste its resources. All you need to do is use the data to plan the most efficient and effective routes to ensure you save time and money.
Fleet Tracking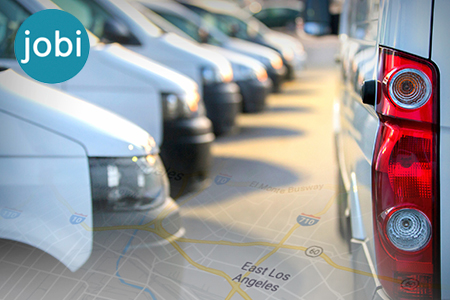 Another way to save money is to track your fleet. Unfortunately, contractor dispatching software for small businesses isn't enough to keep workers honest. To do that, your company needs a high level of transparency so that nobody slacks off and ducks their responsibilities. When technicians are punctual and efficient, the level of customer service will go through the roof. Our service management app comes with an inbuilt tracker so that you can optimize your resources. Plus, it lets you track their movements and figure out which routes need tweaking and which require overturning altogether.
Flat Rate Pricing Pricing
Your business needs to make a profit, yet it can be tricky when the process is complicated. Customers don't understand the system and it causes them to question everything. Also, complex pricing systems result in invoicing errors and they are a waste of a company's resources. Invoicing with Jobi Pro eliminates these mistakes because it incorporates an easy, simple-to-use flat rate pricing book option. If you prefer, there are service options that allow you to tailor your prices and generate invoices quickly.
Paperless Service Agreements
Helping the environment is a big deal in the 21st-century. Customers take it seriously, and that means you must do the same as they choose contractors based on their morals. If you're harming the planet, it will make them think twice about investing in your services. And, it doesn't stop there as the business needs to be able to draw up contacts in a moment's notice for quick, easy and hassle-free purposes. Consumers hate having to wait around.
Our operations management software understands this and comes with a paperless feature. Whether it's a contract you want to create or something else, there is no reason to keep your customers waiting. That way, you can get them to say yes before they start to second-guess their decision. And, there is no reason to worry about mistakes thanks to QuickBooks integration & paperless invoicing with Jobi Pro. The days of endless piles of paper are long gone, which means you can enjoy greater efficiency.
Real-Time Paperless Payments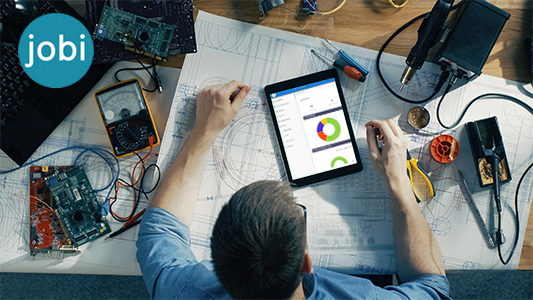 Speaking of payments, it isn't only the hassle-free element that you need to worry about as a business owner. It's also giving them as many options as possible to ensure the experience is as easy as possible. Whether it's the electrician contractor app, plumber contractor app or HVAC contractor app, you don't have to take cash or check only. Payment is made on the spot through a variety of options to make sure nobody neglects to pay their tab.
Job History Records
To avoid field service management mistakes and blunders, it's crucial to have evidence. Then, there can be zero complaints if you or a customer feels as if there has been an error. Because everything in our service management app is recorded, there will never be another repeated dispute. You can print off or send the record of the job to the customer electronically so that they have a copy. We will cover your back because it's impossible to watch it without a spotter.
Jobi is HVAC, plumber and electrician field management service software rolled into one. With our program, you can benefit from features such as call tracking, GPS, and scheduling visits to boost leads, sales and profits. Plus, you can do it without seeming overbearing.
Economy
Companies with 3 users
Call (877) 764-6304 to setup your account
Bronze
Companies with up to 7 users
Call (877) 764-6304 to setup your account
Silver
Companies with up to 17 users
Call (877) 764-6304 to setup your account